With a cute little birdie with those big, nerdy glasses, this company's website is bound to interest you from the moment you look at it. However, if you look around, you will find that this is not your regular writing service, but one of those companies that work on a bidding system. This is a tricky company to lead, which is why only few such services manage to offer quality papers to all customers. Is edubirdie.com one of them?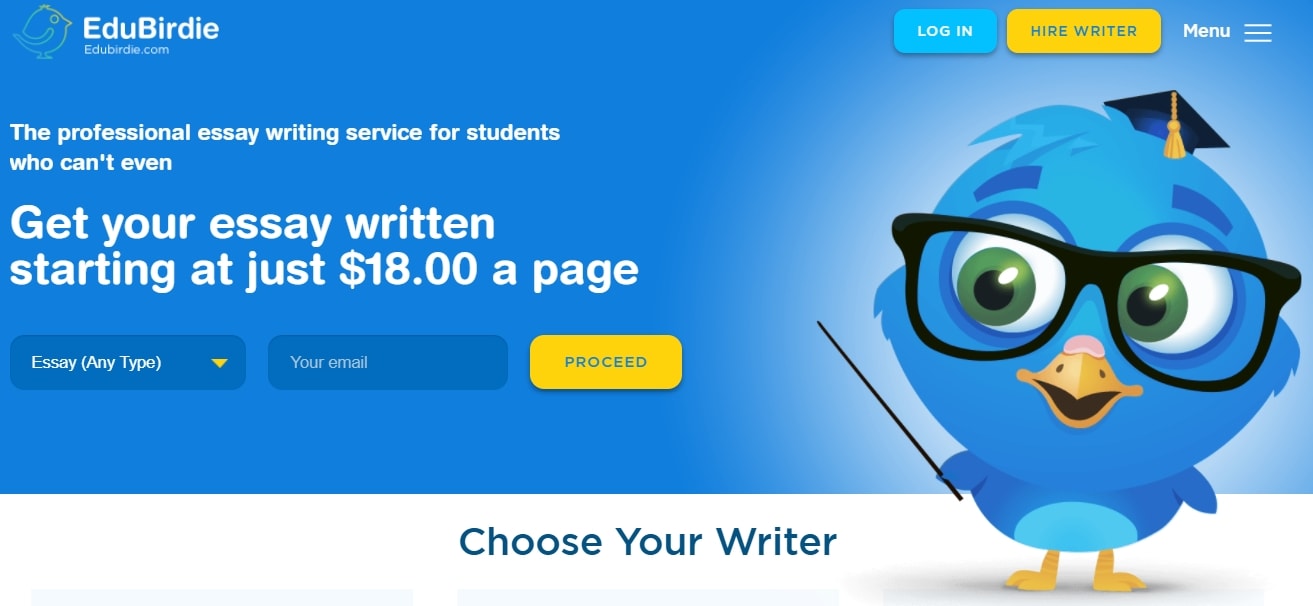 Services Provided
The list of services at edubirdie.com is unlimited, in the sense that they only list several papers and provide you with the option 'other'. Considering that they don't have chosen writers for different types of papers and academic levels, they cannot really provide a finalized list of academic services offered.
Basically, you are left to the 'mercy' of the writers employed here. Once you submit your requirements, writers will bid on them with the price they find to be a right fit. You can then look into their profiles and bids and choose the one you think is most qualified to handle your specific assignment.
Prices and Discounts
If you expected a pricelist here, there is none. Bidders make their own prices, and you can agree on the one you find the right fit for you. Still, we urge you not to pick the lowest bids, since incredibly cheap prices usually result in low-quality papers. As you will notice in the list of bidders, writers with least experience choose the lowest offered rate.
Unlike other companies who don't even have a starting rate, edubirdie.com actually has one – $18 per page. This limits the bidders from offering ridiculously low prices, and is actually a good sign. If the company sets a minimum price that is considered fair on the writing market, they probably hire qualified writers that would not deliver plagiarized or copied content just to make some money.
Quality of Ordered Essays
Since there are no prices or discounts offered, we did not know the quote for our paper until we chose the writer. The choosing process turned out to be a real torture, since as many as 16 writers bid on our research paper!
The elimination process was complex. Firstly, we eliminated the writers who obviously bid on every order, since they had no experience in handling research paper or qualifications to write a Master's level assignments. After this, we got 5 candidates left.
Out of these 5 candidates, we chose the one that looked most experienced in the topic. She held an MA degree and according to her profile, was a native English writer with years of experience. Also, she proposed somewhat of an affordable price of $22 per page.
However, even though we opted for a higher bid, the paper was of disappointing quality. The writer actually delivered it 45 minutes before the deadline, which was a real torture because we waited until the last minute. To make things worse, the paper was full of plagiarism and not at all referenced.
Customer Service
We have two words about the customer service at edubirdie.com – not good. Even though the company has a live chat, it does not really work. We tried to get in touch with an agent several times, but no one replied.
Once we gave up on the live chat, we turned to the Support page and the form you can fill there. This form said that the agents will contact us as soon as possible, but no one replied to our request for a revision. We ended up having paid a fortune for plagiarized content.
Conclusion
Overall, we are looking at a low-quality content provider with non-existent customer service. After reviewing the company, we cannot vouch for their quality of papers or writers. Even though edubirdie.com looks inviting and makes such promises, the quality of service here is below average.
---
Top Rated Services
College Paper Writing Service Reviews
Average rating:
0 reviews