Essay-company.com features an inviting website, but one with serious lack of information. If you decide to look into this company and try to find the information regarding their features, you will learn that this is not an easy task here. The company does not even have a blog to give samples of the content quality offered.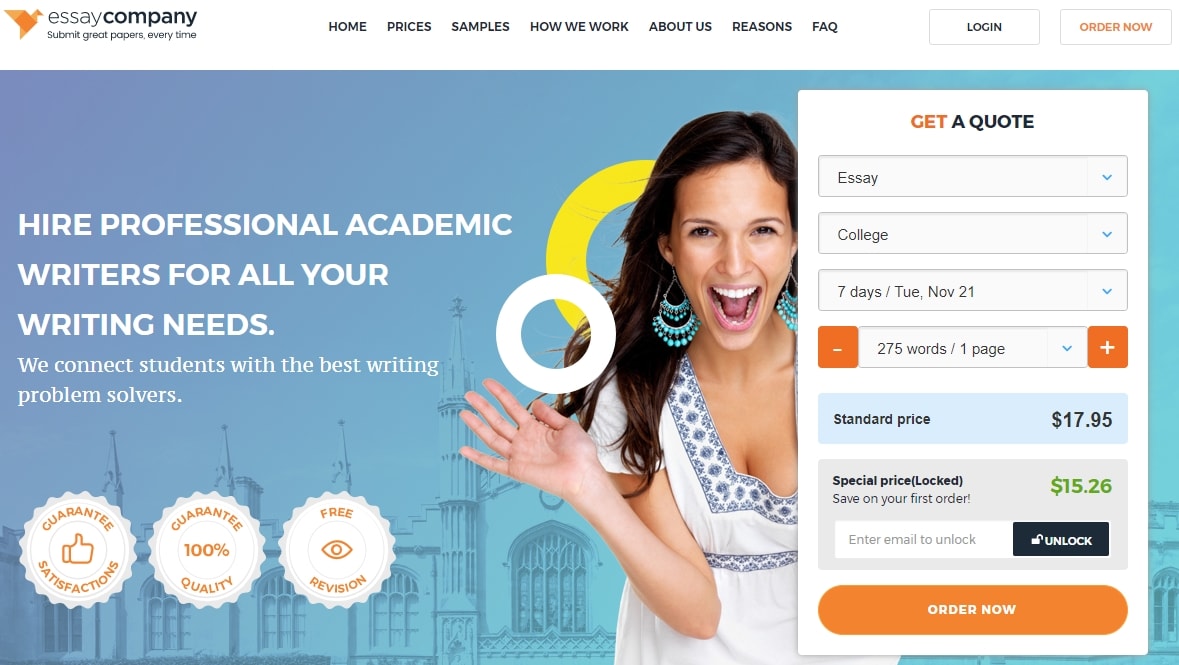 Services Provided
Another thing missing on this service's website is the Services page. If you want to check whether their writers craft your specific assignment or not, you'd have to enter the ordering form or Prices page.
When doing so, you will learn that essay-company.com offers an average list of academic papers. At first, we got the impression that the list is extensive, but the majority of services offered here are separate dissertation chapters, which after all, can be considered as one paper.
In addition to the most commonly assigned papers, the company also offers editing and proofreading services. Still, you won't be finding more specific, less commonly assigned papers at essay-company.com.
Prices and Discounts
When we first saw that the starting price of the company is only $11.30, we thought 'finally, a cheap writing service that looks promising'. However, this price actually applies to high school level and a deadline of 20 days, which is something that almost never happens. High school level papers are never assigned within such a lengthy deadline.
Once you look into the rest of the price list, you will learn that this company is not as cheap as you first thought. Still, with a quote of $16.95 per page for college level and a deadline of 10 days, it can be considered averagely priced. Prices for higher academic levels and tighter deadlines only go upwards, ending at $44.95 per page for a PhD level paper within 3 hours.
Interestingly, the page where we found this information is called 'Prices and Discounts' and yet, there is no information regarding a discount to be found here. On the homepage, you will find a quote that says 'discounts up to 40%', but the only existing discount we found was the first-order discount that is automatically calculated on your quote. Unfortunately, this discount is also disappointingly low.
Quality of Ordered Essays
To test the quality of their writers, we ordered a dissertation chapter from the service. We got an affordable quote for it due to the first-time discount, but the price was still far from cheap. Our dissertation chapter cost $22.06 per page within a deadline of 7 days.
Seeing that the prices are not as cheap as the company suggests, we expected high-quality content from their writers. From our experience with writing services, we know that quality content cannot come at cheap prices. However, the delivered paper from essay-company.com turned out to be yet another disappointment, since the writer did very poor job with our dissertation chapter.
Customer Service
According to the website, the company has 24/7 customer service. This is true since we got the response to the live chat almost immediately. However, the quality of their customer support is very low.
After we got in touch with a company agent, we asked about the discounts and some information about the company. The agent took a while to answer a question as simple as 'how long have you been writing papers', and provided us with no real information about the discounts. He told us that we are entitled to a first discount and will get it automatically, and we can 'discuss further discounts' when we place our first order.
Conclusion
The lack of discounts is unacceptable and very frustrating, since customers want to know how much discount they will get as loyal customers. And since the first-time discount is not very high to start with, this may be the biggest factor for dismissing this option of a writing service.
In addition to the lack of discounts, essay-company.com has a very bad reputation of low-quality content, which is something we also experienced when we ordered from the service.
---
Top Rated Services
College Paper Writing Service Reviews
Average rating:
0 reviews