Essayshark.com is one of those companies where you pick your own writer. This is as time-consuming and complicated as it sounds, but the idea of having control over the writer choice is very inviting. Still, in order for such system to work as well as the company promises, they need to have good guarantees and strict criteria for hiring writers.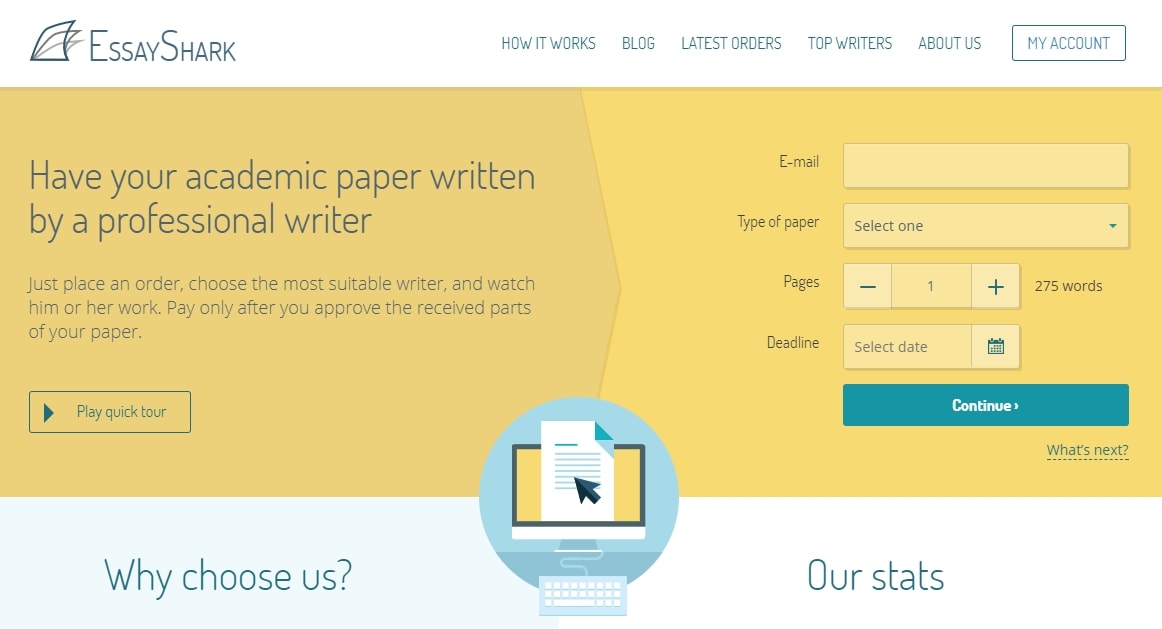 Services Provided
You won't find a full list of services on the website, since there isn't any. Seeing that this company works on a bidding system, they allow you to add any requirements for any paper. Of course, you can only order a paper if someone bids on it. And even if they do, chances are you won't find a bidder that has the experience or qualifications to write it well.
Therefore, you must take this process very seriously. Most companies pick the writer according to your requirements, and your task here is to only ask for the paper. Here, the entire burden of selecting the most eloquent writer is on you, which means that you must be extra careful when choosing the service.
Prices and Discounts
As is the case with all companies that work on the bidding approach, this company also has no prices to offer. Therefore, do not expect to find a pricing list or table on the website. Basically, you won't know the quote for your paper until the point when you agree on it with one of the bidders.
The reason why such companies are as popular as they are is the pricing. If you are a student on a very limited budget, these are the companies where you can find writing services at a ridiculously low price.
Still, this is something we urge you not to do. Paying low prices at bidding writing services almost always results in low-quality papers. And while you can agree on a price and maybe even a reduction with a bidder, we still recommend that you focus on the qualifications of the writers first.
Quality of Ordered Essays
We chose an average bid since there were incredibly low and high bids on our order. After looking into all 15 bidders, we picked a writer that looked like the perfect fit for our history research paper. He had experience in writing on historical subjects, and according to his profile, had an MA in history.
With 3 years of writing experience, this person seemed like the best choice for our paper. His price was a bit steeper, but we managed to agree on a more affordable rate since the paper was lengthy.
The writer delivered our order within the deadline, but everything else was out of order. His writing was below average, making it impossible for us to believe that it was the same writer from the profile we looked into. After such a bad experience, we cannot confirm that this company's writers' profiles are valid.
Customer Service
EssayShark has a live chat option, but this is only available for clients that have a profile on the website. If you have questions and are not signed up yet, you will have to use the e-mail address provided in the Contact Us page.
We actually sent an e-mail here, asking about the sign-up process. After three days, there was no reply. So, we decided to sign up on our own, and contact the customer service via the 'Support' option.
Imagine our surprise when we found out that this option is a form you need to fill, not a live chat. And the most disappointing part of all was, it took 40 minutes for an agent to actually reply.
Conclusion
After our evaluation, we can conclude that this company is a service that belongs somewhere on the bottom of our list of writing services. Based on their terrible customer service and the bad experience we had with the writer, we'd say that this is one of the most unreliable companies that work on the bidding system.
---
Top Rated Services
College Paper Writing Service Reviews
Average rating:
0 reviews